Freediving UAE offers AIDA (the Worldwide Federation for breath-hold diving) courses because we believe they set the standard in international freediving education.
The AIDA educational ladder supports your development as a freediver all the way from beginner to instructor level.
You can enter the AIDA education ladder either at the Level I or Level II depending on how comfortable you feel in the water. See below for detailed information on all of our courses.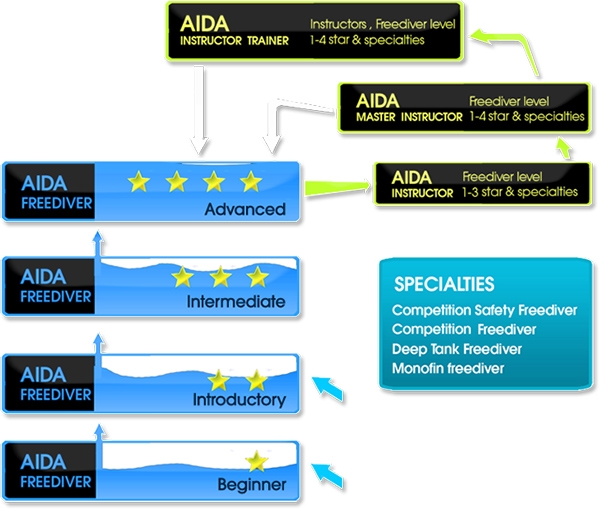 List of Freediving Courses:
The AIDA education ladder is not just about achieving depth or time but building the right attitude and attention for safe controlled freediving.
If you are a first time freediver use our Course Selection Wizard opposite to find the best place to start and our next course.
If you are already a qualified freediver use the Course Selection Wizard to find out which AIDA course your freediving qualification is equivalent to and the next available course.
Passing the Level II course or having an equivalent qualification from another freediving agency will enable you to attend our weekly trips which will help you to continually improve your technique needed for deeper, safer dives.
Welcome to the world of freediving.