Why are coral reefs important, and why are they dying?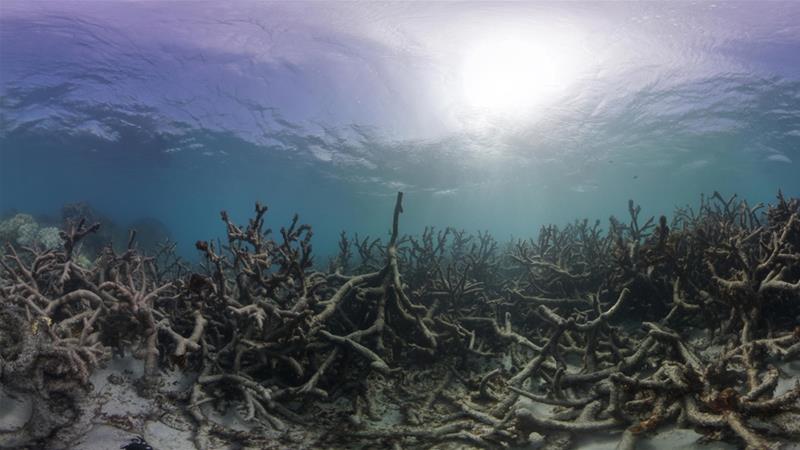 More than 11 billion pieces of plastic larger than five centimetres wide are littering coral reefs across the Asia-Pacific region, according to a recent study.
That is enough plastic to make it from Earth to the moon and nearly halfway back.
Researchers who published the study last week in Science Magazine believe that the amount of plastic in coral reefs will grow by 40 percent in the next seven years.
Meanwhile, the researchers found that the chance of corals becoming infected with a disease increased from four percent to 89 percent when they were draped in plastic.
Plastic pollution is just one factor that is putting the world's coral reefs at risk.
Coral reefs may have been around for as long as 500 million years, but scientists are warning that they might be gone or decimated by the end of the century.
Al Jazeera examines why coral reefs matter and if they can be saved.
What are coral reefs?
Corals are invertebrate animals. Individual coral animals, called polyps, live in groups of hundreds to millions of genetically identical polyps called colonies.
Reefs are created by hard corals which secrete a skeleton that can turn into giant structures like Australia's Great Barrier Reef, the largest living structure on the planet.
In 2001, the UN estimated that the total surface area of coral reefs measured 284,300 square kilometres (sq km), which is just shy of the size of Italy.
More than half of the earth's coral reefs is distributed over only five countries: Indonesia, Australia, the Philippines, France (including its overseas territories) and Papua New Guinea. Their reefs are the size of small countries themselves. Indonesia's 51,020 sq km worth of reefs, for example, is nearly as big as Costa Rica.
SOURCE: http://www.aljazeera.com/indepth/features/coral-reefs-important-dying-180128135520949.html