Monterey County scuba diver and the oldest American remains ever discovered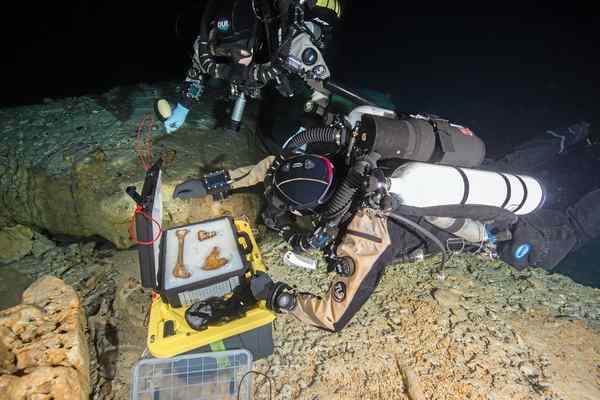 Seaside – About 130 feet below sea level in an underwater cave on the Yucatan Peninsula, Seaside resident Alberto "Beto" Nava and a team of divers found the remains of a teenage girl. She would prove to be the oldest set of American remains yet discovered — a direct descendent of Central America's first residents.
Her story will be told in a NOVA special premiering on KQED at 9 p.m. Wednesday, called "First Face of America."
"At the beginning we didn't really know she was going to be such an important set of remains," said Nava, recalling the fateful find back in 2007. The team had found a near-complete skeleton, skull still intact, surrounded by the bones of about 40 ancient animals, including saber tooth tigers, giant sloths, cave bears and a mastodon.
"It was incredible — and a big responsibility," Nava said.
The team was affiliated with Global Underwater Explorers, a non-profit that unites scuba divers, conservationists and scientists to promote underwater exploration. They were working their way through the Sac Actun cave system and happened upon a 100-foot pit, now known as Hoyo Negro — or Black Hole.
Much of the Yucatan's extensive cave network has yet to be surveyed. "It's one of the few places where you can still explore without having a rocket," said Nava. Not knowing what they would find, he and the team discovered the remains of a 4-foot, 10-inch girl, estimated to be roughly 15 or 16 years old, preserved there for over 12,000 years.
An anthropologist working with the team suggested naming the remains, and the group deemed her Naia in reference to the nymphs of Greek mythology that care for fresh waterways, Nava said. Naia is now kept at Museo Nacional De Antropología in Mexico City in the most secure vault, alongside precious artifacts like the death mask of Mayan ruler K'inich Janaab Pakal I.
Since the find, researchers have studied Naia extensively. By analyzing her DNA, they traced her ancestral lineage to northeast Asia. About 26,000 years ago, a "land bridge" connected Asia and the Americas, and ancient peoples made their way across it. Naia was the first skeleton with early American features that could be identified as an early descendant of those migrants.
The Global Underwater Explorers have continued to dive at Hoyo Negro and have cataloged the site for the last 10 years. Scuba is pretty much Nava's full-time career now. He spends four months a year in Mexico and the remaining months in Monterey as a scuba instructor.
Seeing him in this light, you might not guess he started out in computer science.
After a successful 15 years as a Bay Area engineer, Nava swapped software for scuba. For years, he had lived close to work and came to Seaside on the weekends to dive. "At some point, I decided to do the opposite," he said.
Advertisement
Nava moved to Seaside about nine years ago, and soon cut back on engineering to work with the Global Underwater Explorers. That said, Nava has found a unique way to merge his passion for diving with his original job. His current project is to create a detailed 3D model of Hoyo Negro.
"The researchers that we work with won't ever be able to go into the site," he explained. "So by making this 3D model, we bring the site to them."
Nava collects images of Hoyo Negro as he dives, then brings the data to UC San Diego, where his is a visiting scholar. The school's Center of Interdisciplinary Science for Art, Architecture and Archaeology (CISA3) has a number of advanced tools for displaying 3D models of archaeological sites. One of these is known as the WAVE, essentially a tunnel-shaped virtual reality environment, as well as a spherical projection system you can walk into.
"You feel like you're back on the inside," said Nava, remarking on how closely the models resemble the real site. UC San Diego doctoral students are also building applications to make the models easily accessible to researchers in the field.
Though 10 years have passed since Naia was first discovered, the research surrounding her story has only gained momentum. "I give more and more time to it as I go," said Nava. He is looking forward to the premiere of "First Face of America" and more people engaging with Naia's story.
SOURCE: https://www.mercurynews.com/2018/02/06/monterey-county-scuba-diver-and-the-oldest-american-remains-ever-discovered/