Beached dolphins 'should not be returned to the sea'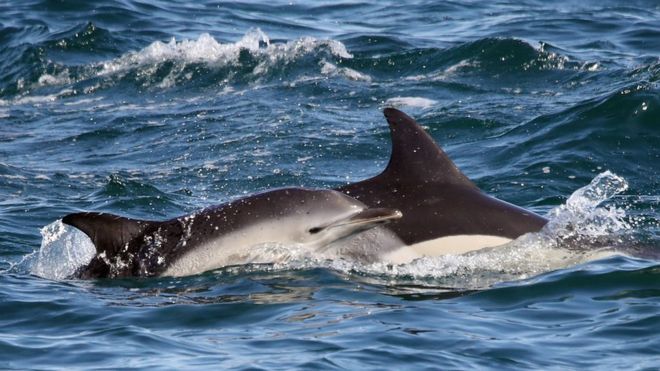 Well-meaning beach-goers are being warned not to return beached dolphins to the sea.
Dead dolphins were found on two Pembrokeshire beaches after people tried to refloat them.
RSPCA Cymru said cetaceans often move on to land because they are seriously ill and in some cases, to die.
Returning them to the sea can be "hugely counter-productive" because it can cause further injury or death, the charity explained.
'Wrong thing to do'
A dead striped dolphin was found on Coppet Hall beach in the Saundersfoot area on 5 August.
The charity said people had tried to refloat it while it was in an unwell, thin and emaciated state.
Two days later, a sick dolphin was found dead on Newgale beach after several attempts were made to return it to the water.
Ellie West, RSPCA animal collection officer, said: "It is a very distressing fact that often these animals are found on land with severe welfare problems, or have moved there to die.
"Returning them to the sea is not helping them, however well-intentioned someone may be.
"If anyone sees a beached cetacean, they should ring the RSPCA. We can then do whatever we can to help – or at least alleviate the animal's suffering as quickly as possible."
She said there was also a risk of people contracting a zoonotic disease from handling them.
SOURCE: https://www.bbc.com/news/uk-wales-45208308