Entangled: Making the sea safer for whales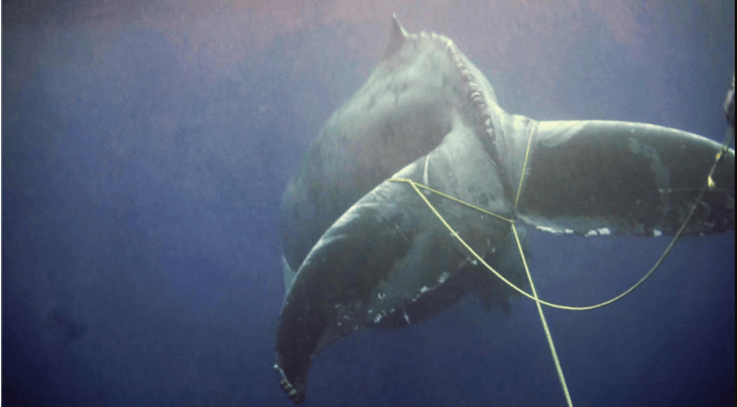 More than 30 times this year, the federal government has received reports of whales tangled in fishing gear along the West Coast.
Sometimes the whales manage to wriggle free. Other times you see heart-rending pictures on the news or a rescue mission.
The culprit often involves Dungeness crab pot lines. Now Oregon crabbers are working with marine scientists to make the seas safer for whales and to avoid a black mark on their brand.
Bob Eder has fished commercially out of Newport, Oregon, for decades.
"Over 45 years of pulling crab pots — I think I've probably hauled in close to a million — I've never encountered an entangled whale," he said.
'We want to be proactive'
Eder often sees whales at sea and recognizes just one bad outcome blamed on fishing gear could be all it takes to cause a PR nightmare.
Whale numbers are up, but so are sightings of humpback whales, gray whales and the odd blue whale entangled in fishing lines and buoys — especially in California.
"We want to get out ahead of it. We want to be proactive," Eder said. "We don't want to be sued by the Center for Biological Diversity. We want to see what we can do to mitigate the situation."
The Center for Biological Diversity is an environmental group and it did just sue the California Department of Fish and Wildlife.
The group wants a federal judge to order the state regulator to make crab fishermen do more to avoid harm to endangered whales.
Crab traps themselves are not the problem, but rather the heavy-duty ropes stretching from the seafloor to one or more buoys at the surface.
Whales can snag a fin or a tail and get all tangled up if there's too much slack in the vertical line or excess floating on the surface.
"They normally don't come in where our gear is," said Hugh Link, executive director of Oregon Dungeness Crab Commission. "But when we get warmer water and the feed comes in closer to shore, then we have an issue."
Link and Eder are two members of a work group of crabbers, marine biologists and government agency and nonprofit representatives. They've been meeting in Oregon since March.
A grant from NOAA Fisheries launched what is known as the Oregon Whale Entanglement Work Group, which is facilitated and now supported by Oregon Sea Grant.
Washington state crabbers and other interested parties plan to meet Nov. 8 in Montesano to hear an update on whale entanglements and discuss whether the Washington-based/the local fleet should launch a proactive work group too.
The work group agreed to distribute a flyer to crab boat operators ahead of the season opener next month with best practices for setting and tending gear.
Oregon and Washington also have programs to retrieve lost or derelict fishing gear.
The work group next plans to survey the fleet about potential season modifications and area closures to keep whales away from gauntlets of ropes.
"To really take a swipe at minimizing co-occurrence between our fishing gear and the whales it may take shortening the season or shortening the amount of pots that can be fished," Eder said. "This becomes highly controversial."
Voluntary measures… or mandates
Those are however some of the very things the Center for Biological Diversity wants to see happen.
Oakland-based Center attorney Kristen Monsell applauds the Pacific Northwest crab fleet for trying to get out ahead of the issue.
"I think it's great to hear that our neighbors to the north are meeting," Monsell said. "I think if California had done so earlier — years and years ago — then we wouldn't be seeing the number of entanglements that we're seeing off our coast now."
Monsell said she has no plans to expand the California lawsuit to the Oregon and Washington Dungeness crab fisheries at this time. That could change if there were an unanticipated surge in whale entanglement numbers in the Pacific Northwest.
One yellow flag for the environmental lawyers is the choice of voluntary versus mandatory whale avoidance measures.
"We don't think voluntary measures will work," Monsell said, because they are not always followed. The Oregon working group's "directives" to prevent whale entanglements are merely suggestions, not requirements.
The Center for Biological Diversity has leverage because any harassment of an endangered whale constitutes an illegal "take" under federal law.
The Endangered Species Act prescribes heavy penalties for guilty parties unless NOAA Fisheries has issued an "incidental take permit" for a fishery, which it has not done for crabbers.
Blue whales and humpback whales are listed as endangered or threatened along the U.S. West Coast.
The gray whale population has rebounded such that it was removed from the threatened list in 1994.
The Dungeness crab fishery is in the focus right now because its their gear that is cut off of entangled whales most often.
The buoys have traceable numbers on them. But whales have also been sighted tangled up in gear from other fisheries, including gill nets and black cod or shrimp traps.
It's also common for the source of the entanglement to go undetermined.
The number of West Coast whale entanglement cases successively set new records in 2014, 2015 and 2016. The pace of sightings of whales in distress in 2017 is lower than last year's record of 71 separate cases, but still of concern.
A breakdown of this year's whale entanglements provided by NOAA Fisheries had 32 separate cases reported through mid-October, of which 22 were listed as confirmed. As in prior years, the majority of sighting came from California waters (27 whales — 19 confirmed), with the rest from Oregon (1 unconfirmed), Washington (3 whales — 2 confirmed) and Mexican border waters (1 confirmed).
'A risky endeavor'
Oregon State University marine mammal biologist Jim Rice manages the rescue response when a whale is reported entangled in Oregon waters.
"It has to be done very carefully," Rice said. "Disentangling a whale is a risky endeavor. There is a great risk to personal safety and even a risk of humans getting killed in the process of trying to remove gear."
"You can't talk to the whale," he continued. "It's a wild animal. It's programmed for survival. It may see would-be rescuers as potential threats."
Rice remembers four instances in recent years when Oregon responders were activated to free an entangled whale.
In three of those cases, the rescuers could not find the whale.
In the final case, the entangled whale was a calf being guarded by its mother.
"They were swimming quite quickly. The line was lightly attached," Rice said. "They basically did not slow down. The mother was not interested in letting us get too close to the calf."
Rice does not know whether the calf survived.
Most of the time, NOAA can't say either what eventually happened to a whale reported to be in distress because they become difficult to track at night.
A Portland-based spokesman for the NOAA Fisheries said that in only one of this year's entanglements — near San Diego — was there strong suspicion that the whale died.
Unless an affected whale is later re-sighted free of fishing lines, the final outcomes are mostly unknown.
"I mean when you're out there in a small boat looking for an entangled whale, you realize that it is a huge ocean and you're in a tiny boat," Rice said. "Your odds of finding that whale are actually really small unless you have eyes in the air looking down or you have a large vessel that has been following this whale for you."
source: https://www.ktoo.org/2017/11/01/entangled-making-sea-safer-whales/