Manatees, just off endangered list, dying of red tide exposure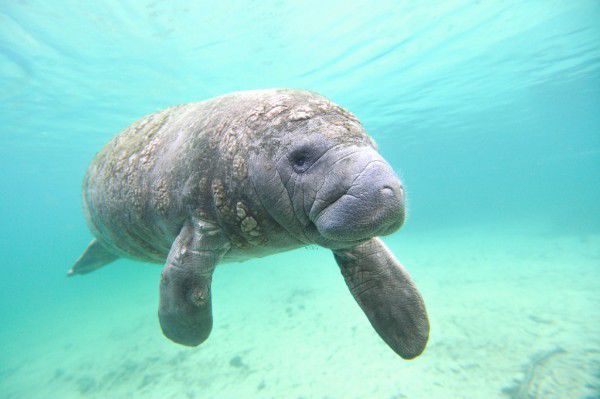 More than 100 manatees have died this year from exposure to the toxic red tide that shows no sign of abating. Two research institutions got a federal grant to study how to improve treatment of the sea mammals, which moved from the endangered to threatened species list two years ago.
Scientists are looking for better ways to treat manatees exposed to the toxic red tide that has killed fish, turtles and sea mammals — including 103 manatees — along Florida's Gulf Coast this year.
The manatee, also called a sea cow, moved from the endangered species to threatened species list two years ago. The hope is to keep them from falling back into endangered status, researchers said.
Florida International University and Mote Marine Laboratory have a $428,000 grant from the National Oceanic and Atmospheric Administration's ECOHAB program, to study if antioxidants would work better than the current treatment using anti-inflammatory substances.
The current bloom of Karenia brevis — the microscopic algae causing the Florida red tide — is the worst the state has seen since 2005. Red tide toxins can compromise a manatee's immune system, causing oxidative stress that leaves the animal vulnerable to illness.
Green and red tides sometimes occur in New Jersey waters, according to the state Department of Environmental Protection. They are caused by excessive growth of single-celled plants in coastal waters. Those that affect New Jersey are different from Karenia brevis, which is common in warmer Gulf of Mexico waters.
"New Jersey has experienced chronic red tide blooms over many years, with green tide organisms appearing less frequently," said the DEP's Final Report of the New Jersey State Comparative Risk Project on Green and Red Tides. "Blooms are associated with reduced oxygen levels in the water, shellfish mortality and fish kills."
They also have caused moderate discomfort and illness in humans, the report said.
Red tide is to blame for 10 percent of manatee deaths over the last 10 years. During bloom years, that number jumped to 30 percent. More than 575 manatees have already died this year including 103 suspected or confirmed red tide cases, according to the Florida Fish and Wildlife Conservation Commission. This surpasses the year-long total of 538 from 2017.
"The current approach is simply to give palliative care and wait for them to clear the toxin and get better," said FIU chemist Kathleen Rein, who is leading the research team along with Mote marine immunology expert Cathy Walsh. "This new treatment could accelerate the healing process."
If successful, it could be used with many other animals including dolphins, turtles and birds, she said.
"The need for better treatment is underscored by the current, long-lasting bloom of Florida red tide and its intense impacts on Florida manatees," Walsh said.
Seven Florida counties are currently in a state of emergency with no predictions on how long the current red tide bloom will last, according to FIU and Mote.
The Sept. 5 report from the Florida Fish and Wildlife Conservation Commission said the bloom persists along 120 miles of southwest Florida coastline, but the recent visit by Hurricane Gordon may have helped to dissipate and lessen the concentration in some counties.
source: https://www.pressofatlanticcity.com/news/breaking/manatees-just-off-endangered-list-dying-of-red-tide-exposure/article_cd266012-6232-5f84-ba10-204a6105eab0.html