Sea cow rescued in Lagos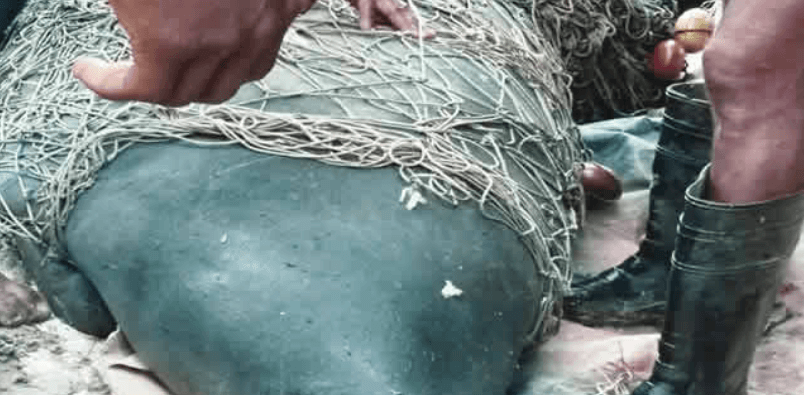 Sesan Olufowobi
A manatee, popularly known as sea cow, has been found in a riverine community in the Agboyi-Ketu Local Council Development Area of Lagos State.
The Permanent Secretary, Ministry of Agriculture, Dr Olayiwole Onasanya, said immediately the ministry got the information, the state government moved to rescue the huge aquatic herbivorous mammal before residents could turn it to food.
He said the mammal was caught by the trap set by a fisherman in the area, adding that the government decided to rescue it because it was an endangered animal.
Onasanya said, "The mammal is an endangered species which breeds only a single calf once in two years. It is listed by the World Conservation Union as a specie vulnerable to extinction because of its meat, bones, and skin, which can bring wealth to poachers.
"The mammals are in three species of West Indian, West Africa and Amazonia, with the highest population in Guinea-Bissau, the lagoon of Cote d'voire, the southern portions of Niger River in Nigeria and the coastal lagoon of Gabon."
The permanent secretary added that the manatees measure up to 13 feet with as much weight as 590 kilogrammes, which graze on water plants in tropical seas and consume about 10 to 15 per cent of its body weight in vegetation.
He said the state government was committed to continuous formulation of policies geared towards the preservation of wild animals in order to boost the tourism potential of Lagos.
He noted that the manatee had been kept safely in the custody of Origin Zoo in the Ikorodu area of the state.
"This animal can be a source of tourist attraction to the state if properly taken care of. To this end, the government has already taken all necessary steps in providing a conducive and habitable environment for the sea cow,"  Onasanya said.
The fisherman who trapped the mammal, David Oyenuro, said he was happy that the government rescued and had decided to preserve the animal.
He urged the government to continue to support fishermen, saying their fishing implements get damaged when they encounter huge aquatic animals such as the manatee.
source: https://punchng.com/sea-cow-rescued-in-lagos/