Al Aqah — the natural pearl of the UAE
All lovers of diving and other water sports can find many interesting places to enjoy water activities in Fujairah, the emirate on the east coast. It is a second place in the UAE with access to the Indian Ocean. Here fans of untouched nature and those who love a comfortable beach holiday will find a wonderful holiday location. One of the unique regions in Fujairah is Al Aqah.
In 1995, Al Aqah officially became a marine reserve. The territory of the entire protected state reserve has an area of 0.71 square kilometers, including the territory of 400 meters in the ocean. This zone is specifically preserved in its natural form, which contributes to the development of fishing and scientific research of marine life, and, equally important, attracts many tourists from all over the world.
On the beautiful beaches of Al Aqah there are several luxurious hotels, nature here is amazingly beautiful, with magnificent valleys and picturesque mountains. But you can also find not so civilized places where you can completely break away from the energy of a big city. Excellent experience, given that the road here from Dubai will take only 1,5-2 hours.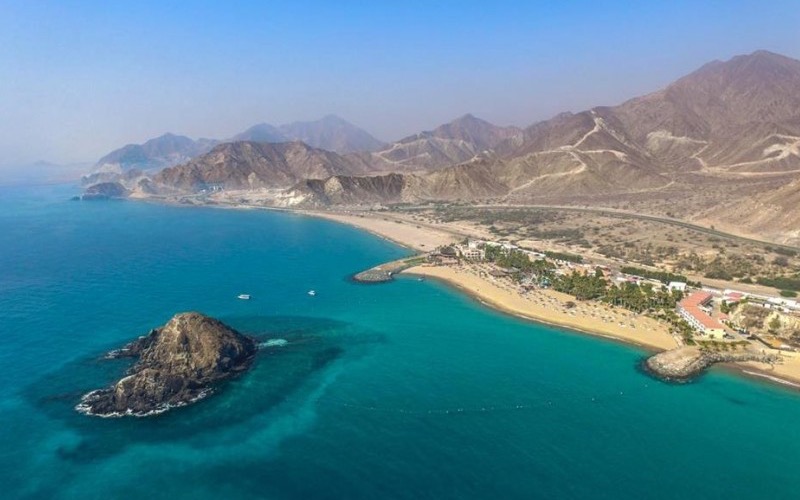 These places are great for a great diving experience thanks to the crystal clear water, as well as the diversity of the underwater world, where you can meet different types of fish, jellyfish, turtles, rays, moray eels, puffer fish, sea cucumbers, starfish and other beautiful animals, including dolphins and sharks, you can also see stunning coral reefs of various types here. That's why Al Aqah is a very popular destination for snorkeling and freediving experience. On the coast there are many diving centers, also many organized tours of diving enthusiasts from other emirates come here.
Beautiful landscapes attract lovers of an active lifestyle to this area. A trip on a clear warm day from Sandy Beach, one of the most beautiful natural beaches in the country, to Snoopy Island can be unforgettable. Here you can go snorkeling using a mask and snorkel. The waters are shallow and the currents are mild, so even for beginners will surely have great and safe diving experience. And you can transfer to the island, for example, using a kayak. The waters of the Indian Ocean are calm and clear and on your way you will see many beautiful coral reefs, meet flocks of fish and other unusual inhabitants of the underwater world. It will be a pleasant adventure even for inexperienced tourists and for families with children.
Al Aqah is one of the most popular areas of Fujairah, where residents and tourists from all over the world come for vacations. The stunning beauty of nature, beautiful beaches and the ocean with all its miracles and secrets – this is something that will long be remembered. You will certainly want to come back here again and again. No wonder Freediving UAE and Apnea Pirates choose this place as a base for its regular depth training trips.