Exploring Fujairah's Underwater Wonders with Etihad Rail
Etihad Rail is quickly putting the pieces together on its massive 1,200 km network project. Spanning across UAE and extending from Saudi Arabian to Omani borders, construction of this immense undertaking has already reached 75%. Abu Dhabi-Dubai region saw 100% completion. 
Etihad Rail is set to revolutionise transportation within the UAE, providing passengers with an efficient way of travelling between its 11 cities and regions. With Etihad Rail you could get from Abu Dhabi to Dubai in just 50 minutes. And if it's Fujairah you're heading towards then don't worry – your trip will take no more than 1 hour 40 mins; a journey time that's cut by 30-40% compared to other forms of transport! There are plans for future expansion of the network even to Khorfakkan. Let's hope to Dibba one day.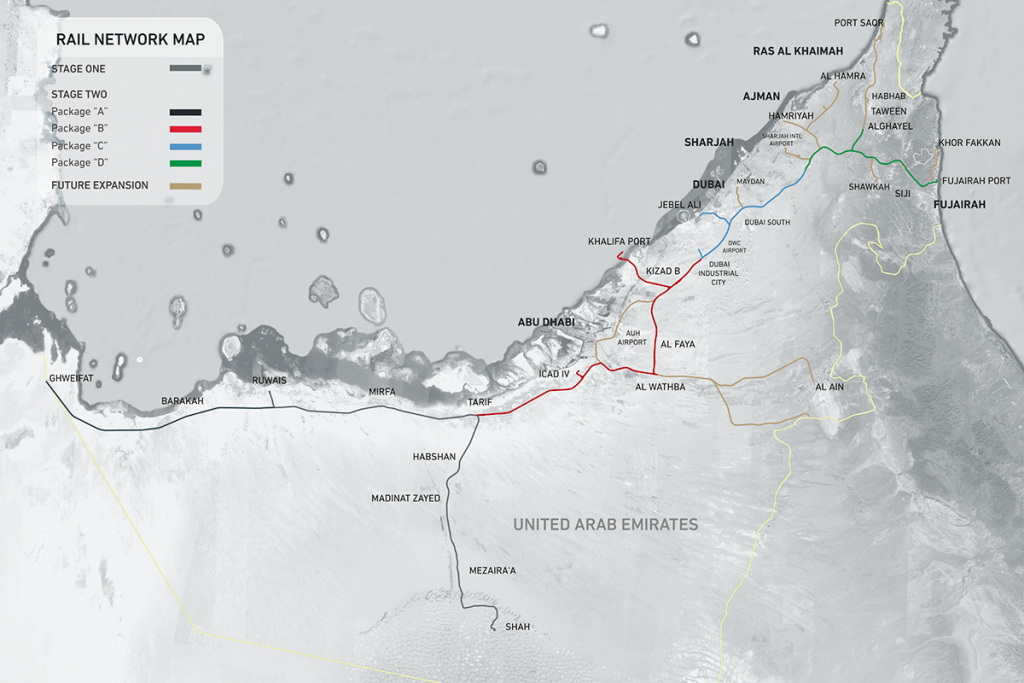 Get ready to experience a revolutionary form of transport for the UAE: the Etihad Rail passenger train! Designed by Spain's CAF, these ultra-modern trains feature European standards and will provide riders with plenty of comfort. Each vehicle boasts up 400 seats divided between first class, business class and economy – providing an ideal journey for everyone involved. Speeds can reach as high as 200 kilometres per hour so you'll be at your destination faster than ever before! The very first station is set to appear in Sakamkam, Fujairah – right near the heart of this incredible city.
Travellers riding the Etihad Rail passenger train will experience comfortable, secure and swift journeys with many amenities. On board they can enjoy infotainment systems to keep them entertained while having access to charging stations for their devices, delicious food options as well as plenty of legroom thanks to a top-notch air conditioning system!
The behind-the-scenes journey to reveal the first Etihad Rail prototype passenger train at the national day celebration ceremony exuded creativity and passion. pic.twitter.com/CyGzCQPmle

— Etihad Rail (@Etihad_Rail) December 14, 2022
With the launch of Etihad Rail, the UAE continues to set a remarkable example on sustainability and environmental consciousness. The project will be an integral part of their state-of-the-art infrastructure system and promises to reduce carbon emissions by up to 80%.
The Freight Rail service is now ready to transport goods and materials across the UAE, taking on a heavy load that would have been carried by trucks. Soon enough people will be able enjoy convenient travel around the emirates thanks to this newly established railway system!
Conclusion: 
Exploring Fujairah's underwater wonders will get easier thanks to Etihad Railway's service from Abu Dhabi and Dubai straight to Fujairah City! This convenient rail system will offer comfortable seating along with free Wi-Fi onboard each train making it perfect for divers looking for an adventure like no other! With its diverse marine life and clear waters full of rare species waiting to be discovered by divers from around the world – there's never been a better time for exploring one of the UAE's hidden gems -Fujairah!