Apnea Pirates AIDA Cup in October
The Apnea Pirates AIDA Cup has announced exciting new venues for the competition! The pool disciplines will take place at the Hamdan Sports Complex, known for its top-notch facilities. For the depth disciplines, participants will have the unique opportunity to compete at Deep Dive Dubai, the world's deepest swimming pool. It's sure to be a captivating event with these new venues, offering both competitors and spectators a thrilling experience. Check out the the competition dates bellow!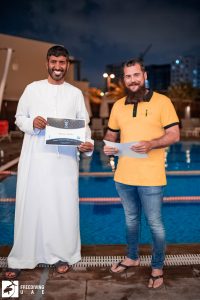 The Apnea Pirates AIDA Cup is series of freediving competitions that take place over the course of a calendar year. Athletes compete in various individual events for a chance to win the esteemed Apnea Pirates AIDA Cup Trophy. The competition follows the traditional format of freediving competitions under the latest AIDA rules and is judged by active AIDA International Judges. All performances are reflecting at AIDA International ranking. The Cup includes numerous competitions or "Meets", organized by Freediving UAE, recognized by AIDA UAE and Dubai Sports Council. Each Meet consists of different disciplines, including static apnea, dynamic apnea with and without fins, constant weight with and without fins, and free immersion. The winner is determined based on the highest overall points after all the meets at the end of the year. The top-performing male and female athletes in each discipline will be awarded medals as well.
Learn more about Apnea Pirates AIDA Cup and current rankings.
Dynamic apnea with and / or without fins (DYN/DYNB/DNF)
Constant weight with and / or without fins (CWT/CWTB/CNF)
Free immersion (FIM)
Constant weight with and / or without fins (CWT/CWTB/CNF)
Free immersion (FIM)

Book relevant day of competition and make payment. Each day of the competition should be booked separately, as per the links provided above.
Register for Apnea Pirates AIDA Cup on AIDA International website.
Be 18 years of age or older, or 16 years of age or older with written parental consent.
Be member of the AIDA National corresponding to his / her citizenship (passport) if this National exists (if not, athletes may register in AIDA UAE).
Be in possession of a signed "medical certificate of non contraindications to freediving", written in English. The medical certificate cannot be older than one year. It must be signed by a medical doctor and include contact information.
Sign Lability Release and Assumption of Risk. I can be signed on the day.
For AIDA depth disciplines each athlete must fill-in and sign the AIDA competition form, it is the athlete's responsibility to fill in this form according the truth.